Everyone touts the importance of finding your voice, and bringing your true self to your brand -- that it's THE most effective way to attract and connect with your ideal customer.
And it's true.
But there's a problem.
It can be hard to understand what that actually means -- to YOU.
In pursuit of that meaning -- you spend a TON of time futzing with your website, brand and messaging, ever shifting, never confident that you're getting it right.
Frustrated, the storm of second guesses swoop in...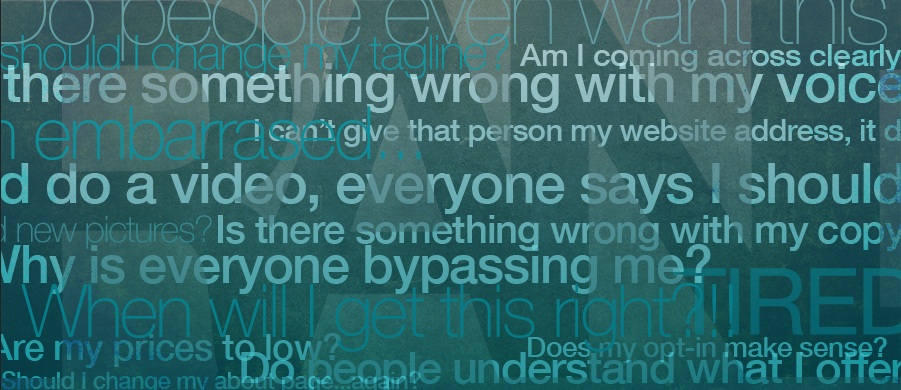 The vexing part is...
If you're confused, so is your ideal customer.
---
Brand Confusion = Click (AWAY) -- AND -- Click (AWAY) = Lost Money
If you want to grow a financially thriving business online, you simply can't afford to have a confused brand. Period.
It's time to end the torrent of second guesses.

---
Imagine having unwavering confidence that your brand is ON POINT.
Yep, that means handing out your website URL knowing it's got your back.
Imagine your ideal customer letting out an involuntary GASP! when they land on your site, because it's undoubtedly (and unexpectedly) clear, that you GET them. That somehow you're doing/solving the exact thing they're looking for (and need).
Which means there's NO question whatsoever in their mind who you are, and what your business offers -- making the decision to interact with you + your brand, effortless.
How would it feel to replace your brand confusion with such warrior like conviction?

I've been in the design + branding industry for years, but always within design firms + start-ups. It wasn't till I launched my own solopreneur business that I truly understood the gut-wrenching second guesses that plague you when building a business online amidst millions of other voices vying for your ideal customers attention.
It can be downright tormenting.
That's when I lined up my why with who I want to serve and found my unparalleled service…helping daring solopreneurs–like you–build an unforgettable brand, by helping you discover what makes you stand out, owning it + acting on it with conviction.
Conviction is kryptonite to confusion.
Let's eliminate brand confusion from your repertoire of second guesses, shall we?
Get ready for a soulful + technical
BRAND INTERVENTION
In this training you'll focus on: you, your website, brand, and customer experience -- so that your brand foundation becomes unwavering. There will be no more confusion for you -- or your customer -- on who you are, and what you offer.